Leaders were selected from more than 4,000 Effie winners and finalists around the world
On June 8, 2020, Effie Worldwide announced the list of marketers and agencies behind the most powerful marketing campaigns in the world.
Unilever became the most effective marketer, Coca-Cola the most effective brand, WPP the most efficient agency holding, McCann Worldgroup the best agency network, FP7 McCann Dubai the best agency office. The Ukrainian Banda has become the most effective independent agency in the world.
"There was a phone call and I heard the voice of a woman named Tracy Alford, President & CEO of Effie Worldwide. She said she called to personally greet us and she had very good news: "You're on top of the world as an independent agency!" I squeezed into the chair with joy," comments Banda co-founder Yaroslav Serdyuk.
How and whom was evaluated
The Effie Award was established in 1968 by the American Marketing Association of New York to reward the world's most successful advertising campaigns. Today, the Effie Award is one of the most prestigious awards in the industry. International brands, advertising holdings, network and independent agencies take part in the competition, and their results are evaluated by leading marketing experts. The 2020 finalists were selected from more than 4,000 Effie winners and finalists worldwide, announced from January 1 to December 31, 2019.
Marketers, agencies and brands were evaluated in five categories:
The most effective marketers

The most effective brands

The most effective agency holding groups

The most effective networks of agencies

The most effective agency offices

The most effective independent agencies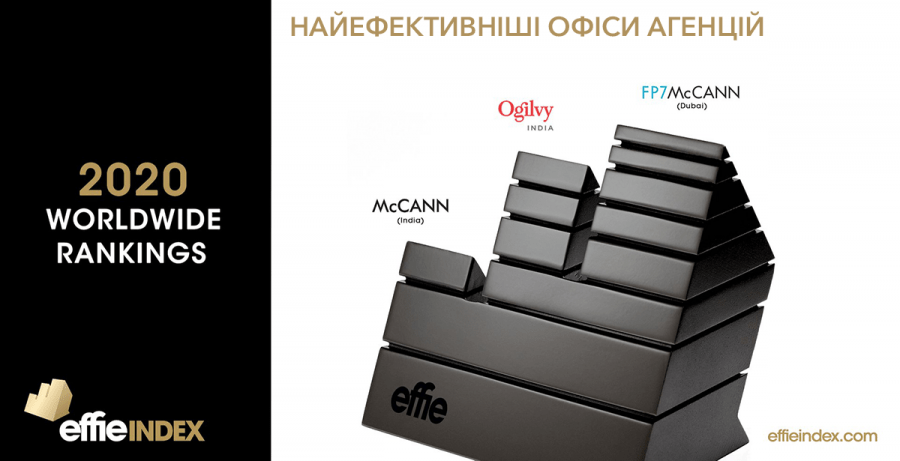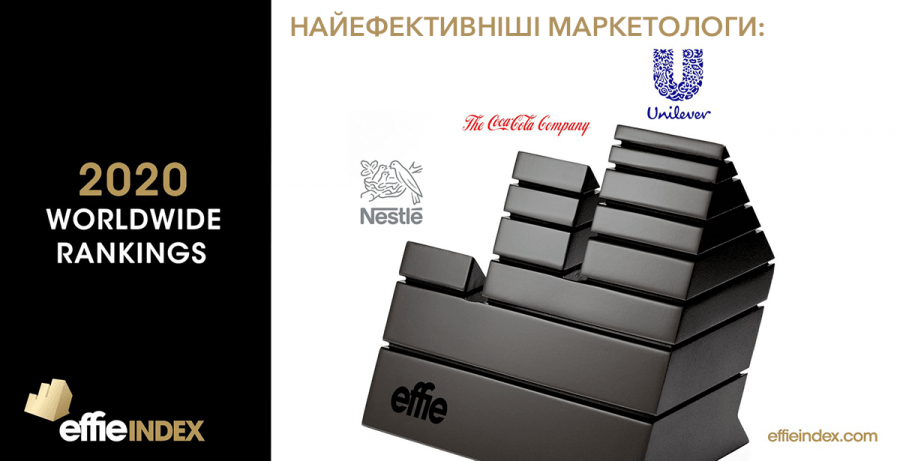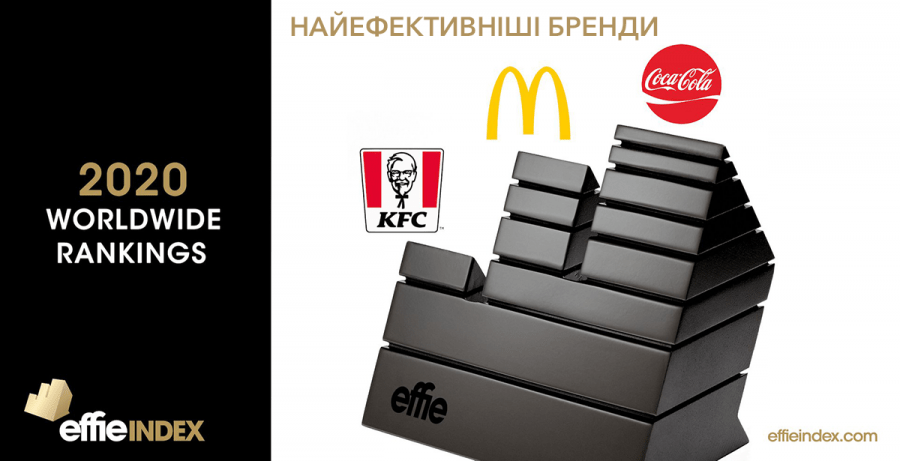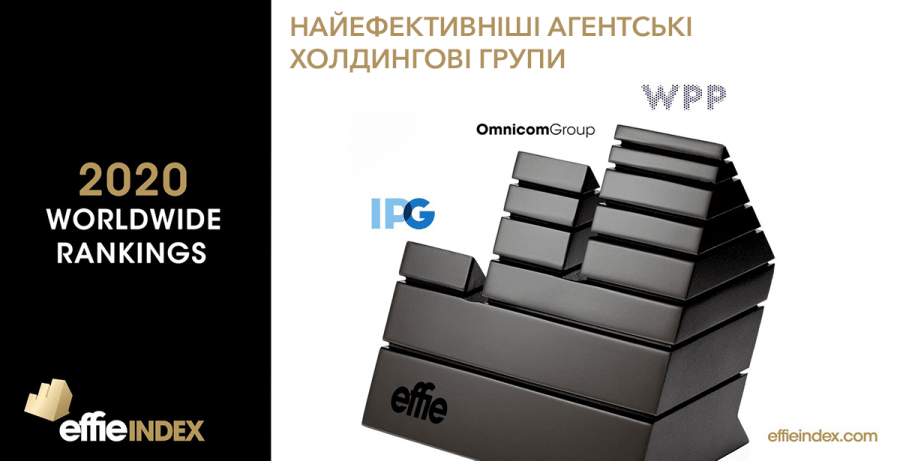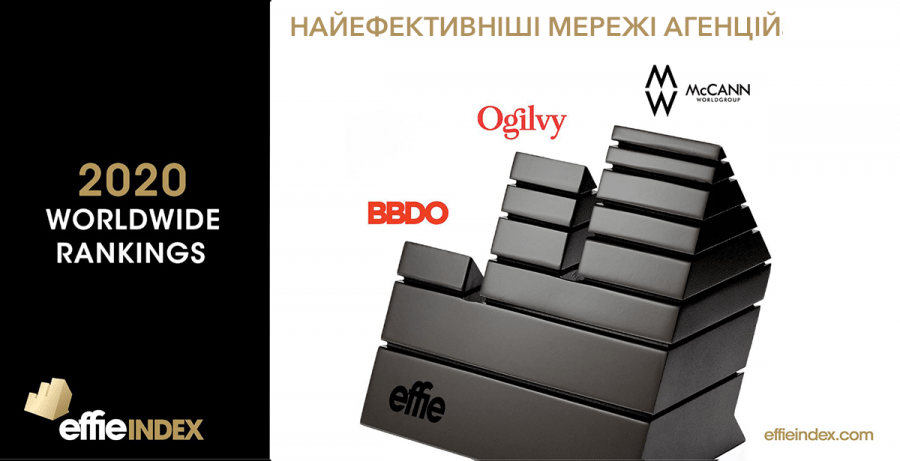 The tenth issue of the Effie Index fell on a difficult period for the world, but the organization decided to release it according to plan.
"Despite the fact that the industry is experiencing change and crisis, marketers who have been included in the Effie Index rankings, show a strong commitment to marketing effectiveness. Efficiency is more important than ever, especially in times of economic uncertainty. The index shows great examples of campaigns that have contributed to the growth of brands around the world. On behalf of Effie Worldwide, I would like to congratulate everyone on the 2020 rankings, "said Tracy Alford, President & CEO of Effie Worldwide.
Unilever, Coca-Cola, WPP and McCann Worldgroup are veterans of the ranking and once again found themselves in first place. Newcomers to the list of winners were AB InBev and TBWA Worldwide.
How to enter the list of the best  
"The mistake of many brands is that they always want to be perfect in everything, driving themselves into a rigid and boring framework. They are hellishly afraid to make a fool of themselves, to say something wrong or to make a joke. They are afraid of emotional and quick decisions. It was like that before. Probably, when I came to advertising, it was still the same and we all played with all our might in this perfection. But today everything has changed a lot. Everyone is tired of the steepness that has haunted us all our lives.
I am sure that people do not want to buy the perfect product from the perfect manufacturer, they want to buy from someone to whom the soul lies. It is important for them to see real faces, not corporate buffoons, to communicate with live brands, not with bots, and to recognize themselves in advertising with their sometimes ridiculous imperfections, and not to look at mannequins with snow-white teeth. Creativity is not about impressing people, it's about being honest with them.
The most important thing a brand should do in the world of its communications now is to be honest. We have entered an era of openness. There is no more b2c or b2b, now it is h2h: human to human, "says Yaroslav Serdyuk.
"At Banda, we have relied on talents and a culture that helps them thrive. Even ten just good strategists, no matter how much time they spend, will never be able to do such effective work as one truly talented strategist. A great creative idea will always give a better result than an idea based on a huge amount of data and research. Talent decides. And when a lot of talent comes together in one place, magic happens," adds Banda co-founder Pavlo Vrzeszcz.
Read Adsider's interview with Banda creators about the exhibition "I + GOD = A", Ukrainian advertising and festival awards here.